August 1-4, 2019
Andy Heck Boyd
Ben Coode-Adams and Justin Knopp
James Cicatko
Nkululeko Malangeni-Berg/The Ninevites
Félix Gonzáles-Torres
Pedro Vélez
I'm very excited for my fifth return to Seattle Art Fair!  The theme of the SEASON booth this year will deal with contemporary protest art and how these individual artists approach it, internalize it and produce unique works.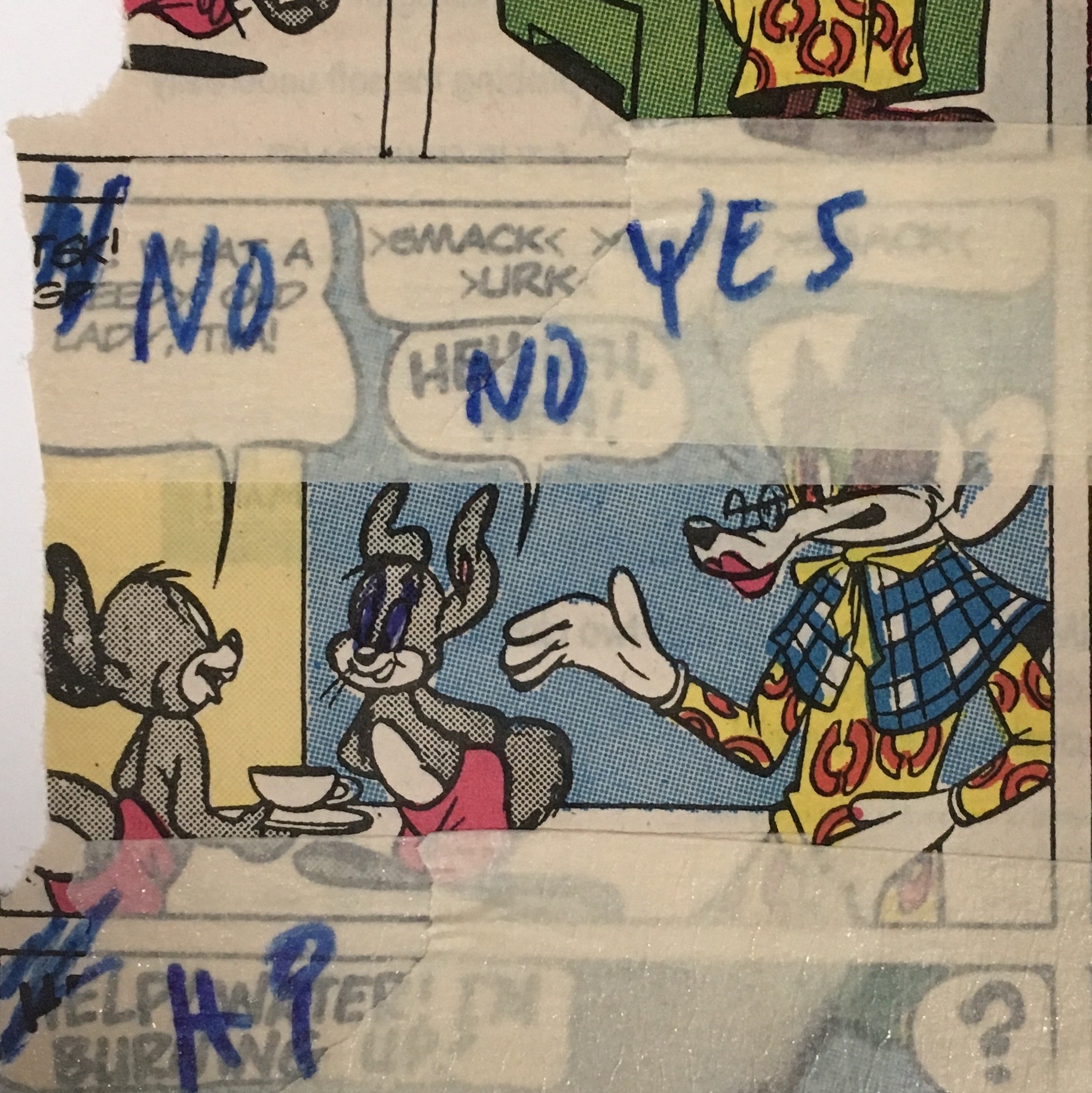 Andy Heck Boyd
Six untitled collages (detail), 2015 
acrylic, ink and collage on comic book pages, 10 x 7.5 inches each.
The paintings by New Hampshire artist Andy Heck Boyd are motivated in part by his paranoid schizophrenia and delusions of hearing the voices of Satan.  These burdens have led Andy to multiple college drop outs, and forced him to become self-taught.  These starts at an art education places his work between that of pure Outsider artist and seasoned grad.  Pulling from numerous aesthetics and styles, his work ranges from short novellas, comics, film, photography and painting and addresses concerns about identity, memory and humor.  In this series of altered comic book pages, characters have been given new conversations that demand, ignore, and ultimately accomplish nothing.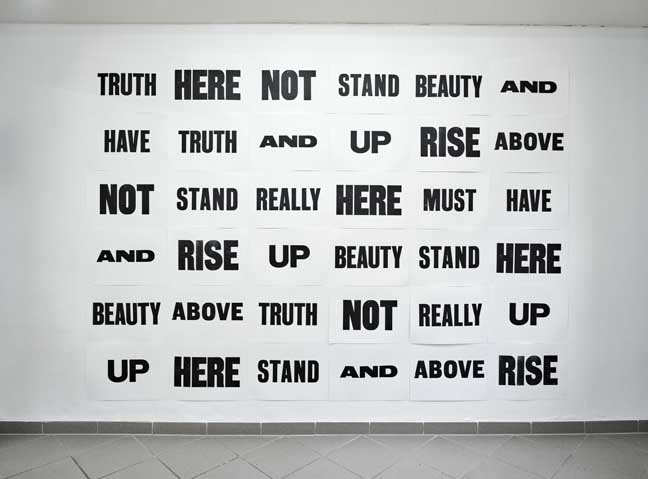 Ben Coode-Adams and Justin Knopp
Proof, 2018
letterpress on cardstock, dimensions variable.
Ben Coode-Adams and Justin Knopp (Essex and London)  have collaborated to produce PROOF. a large multi-paneled letterpress print that is fluid and rearrangeable according to whim.  The artists worked together to collect the most popular words from protest signage from a London rally.  With each word printed boldly on a single card, various arrangements can happen, each calling the viewer to action but for no specific cause.  Ben has a busy drawing and sculpture practice with extensive exhibitions in Europe.  Justin operates Typoretum, an extensive letterpress shop using a variety of traditional types including a fully restored 1857 Columbian Press.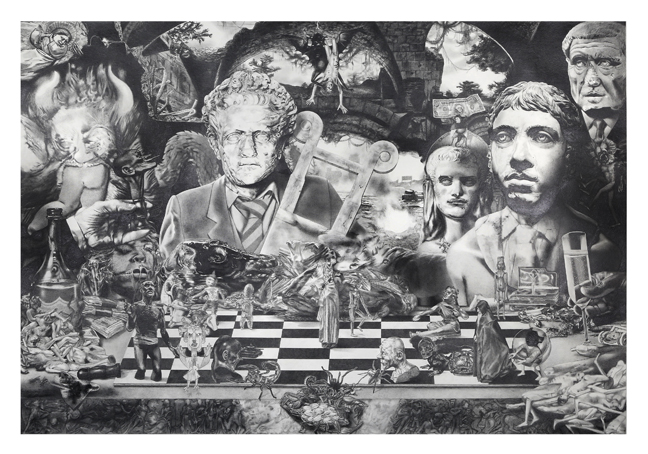 James Cicatko
En Passant, 2016-18
graphite on paper, 36 x 52 inches.
James Cicatko (Seattle, Washington) incorporates layers of symbolism in all his work, pulling images from history and pop culture as well as folklore and current news. In this large graphite drawing, two unseen experts play a game of chess in a Piranesi ruin with a view to a Syrian street bombing. Nero, Caligula, Elagabalus, and Diocletian watch and feast surrounded by cash, music boxes, and the dead. Game pieces range from a traditional bishop to Jake the Alligator Man as well as figures from Picasso, Bosch, and Giotto. Please note the scene takes place on a sarcophagus that is a nest for spiders and scorpions.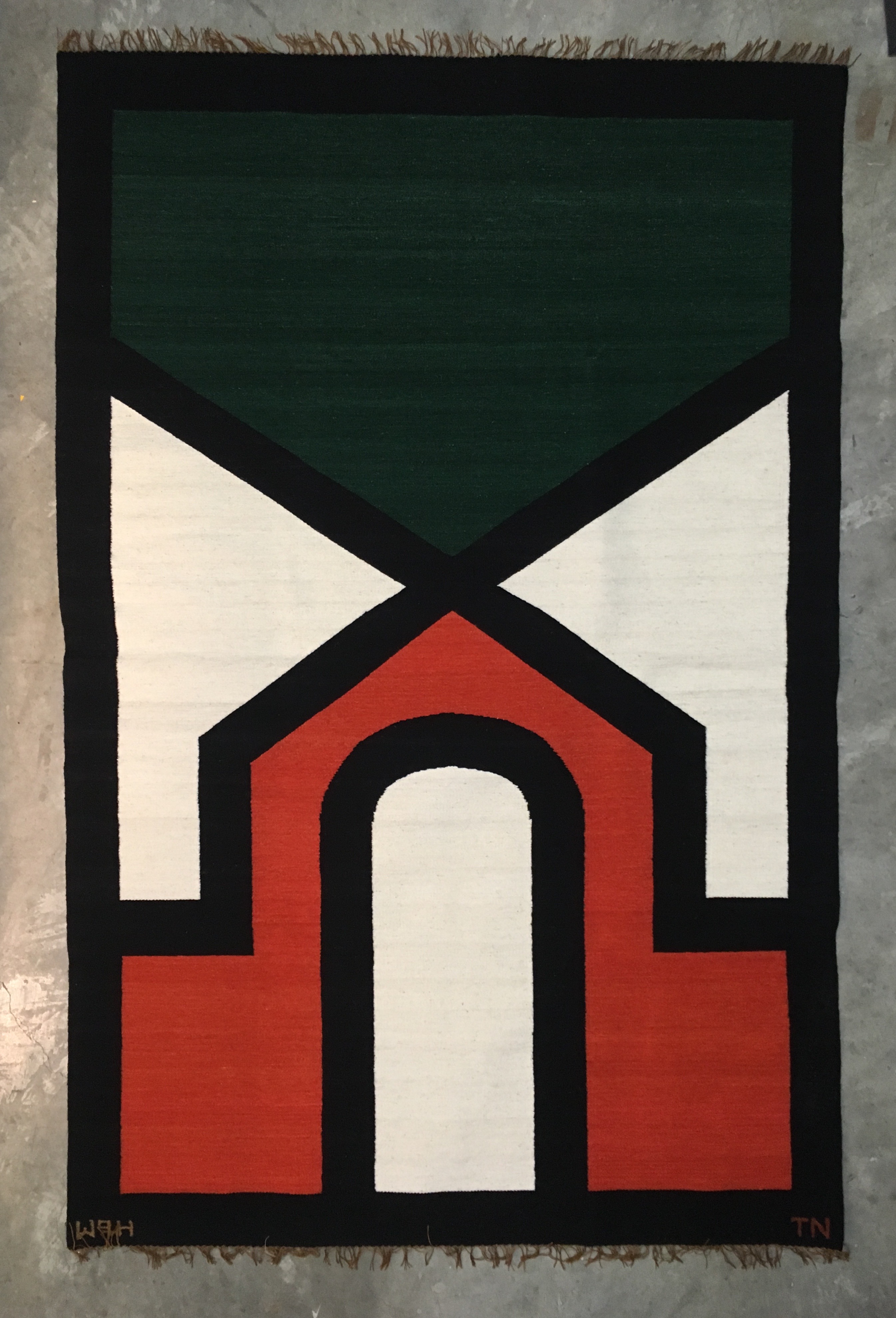 Nonkululeko Mlangeni/The Ninevites
Sankara Rug, 2019
hand-woven wool, 72 x 48 inches
Nonkululeko Mlangeni (Johannesburg, South Africa), founder of The Ninevites, saw a lack of representation in the South African design firms so rather than complain about the overall whiteness of it, she started her own.  With The Ninevites, she encourages the underemployed and the youth to appreciate local craft traditions while learning design and entrepreneurship.  Using traditional imagery adapted to modern tastes, The Ninevites produces home textiles by providing jobs to artisans in Africa and South America.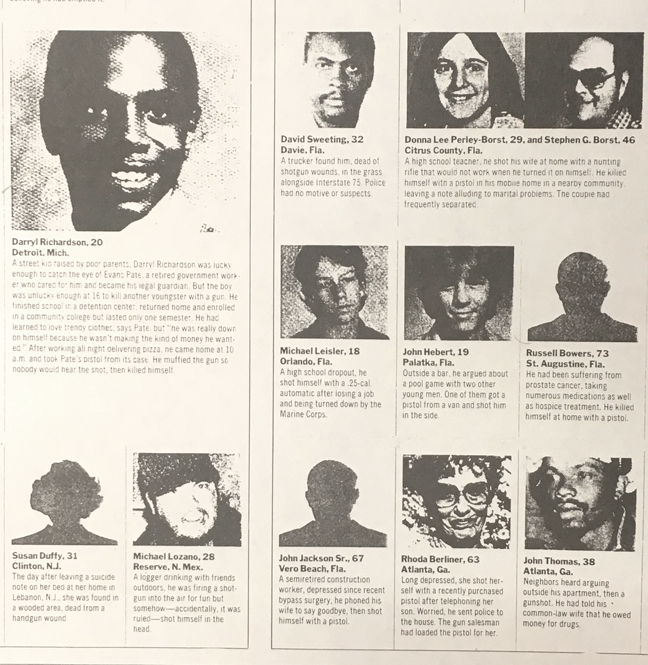 Félix González-Torres
"Untitled" (Death by Gun) [detail] 1990
lithograph, unlimited edition, 45 x 33 inches.
Félix González-Torres, (1957 Guáimaro, Cuba-1996 Miami, Florida).  Inspired by an article published by TIME magazine in July 17, 1989, González-Torres explored the relationship America has with guns with this piece "Untitled" (Death by Gun) 1990, and pays homage to the 460-people killed in America by gunshot for the week of May 1–7, 1989. He makes us reflect on the grim reality of the gun violence in America, presenting a sobering view of the many lives lost. Originally, this piece is composed of a nine inch high stack of lithographs with the picture of the deceased with the description of the individuals, their age, city and state where they lived, followed by a brief description of the cause of death. Viewers are allowed to remove a sheet for themselves and the exhibiting venue updates the stack to the original nine inches.  This print was acquired from an exhibition at The Museum of Modern Art, New York City, 1996.  The most pervasive reading of González-Torres's work takes the processes his works undergo (lightbulbs expiring, piles of candies dispersing, etc.) as metaphor for the process of dying. However, many have seen the works also representing the continuation of life with the possibility of regeneration (replacing bulbs, replenishing stacks or candies).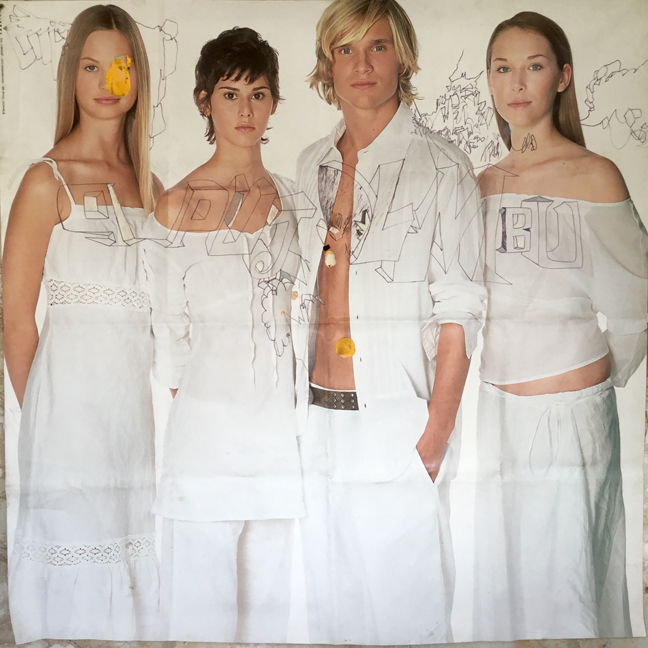 Pedro Vélez
Benetton Identityless, 2003-18
acrylic and marker on vinyl with embellishments, 76 x 76 inches. 
Pedro Vélez (San Juan, Puerto Rico) has been an outspoken voice against the colonization of Puerto Rico.  His current work portrays the hypocrisy of the appeal of the island as a tax haven and the total abandonment of the people during and after Hurricane Maria.  His work has been exhibited at The Newcomb Museum in New Orleans, Loyola University in Chicago, The Luminary in St. Louis, the Whitney Biennial 2014, and at Monique Meloche Gallery, Chicago.